How to Power the Mixcast 4 using USB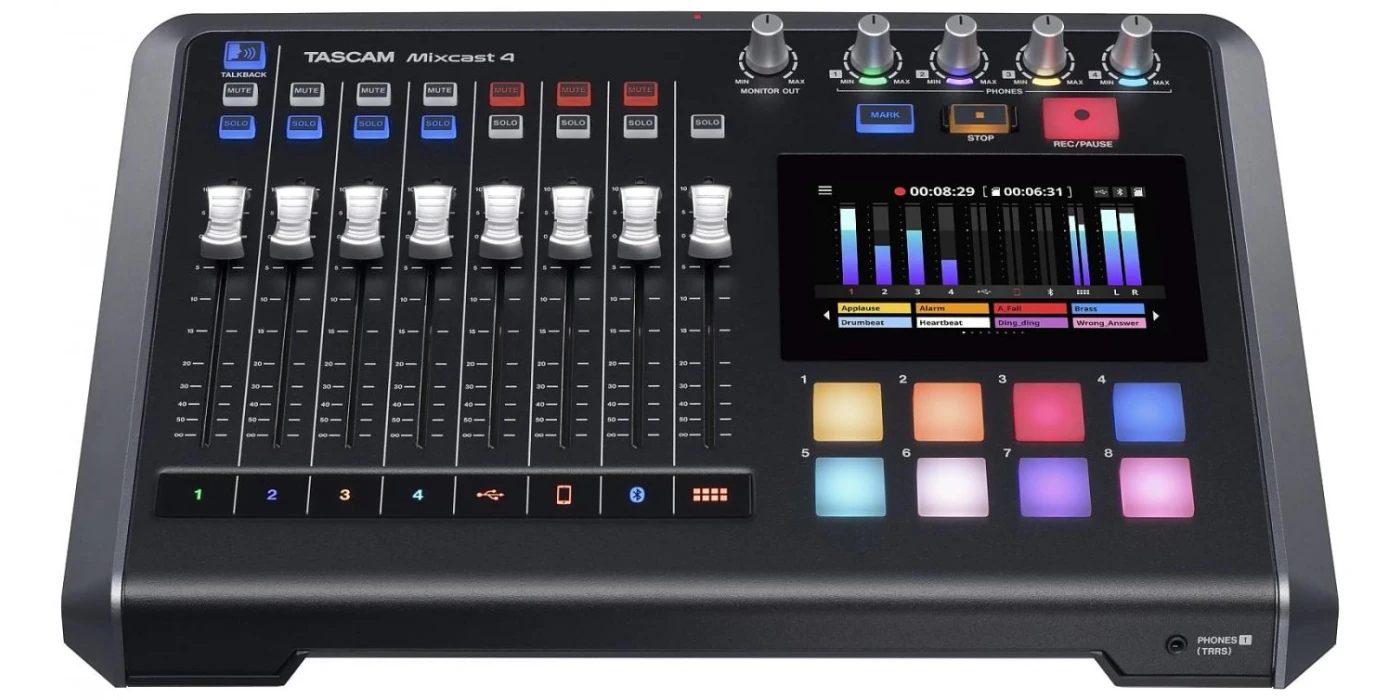 In this tutorial, we'll take a look at powering the popular Tascam Mixcast 4 with USB power — something the unit does not support officially.
There are many podcast recording stations available on the market right now, and the most popular ones are without a doubt the Røde Rodecaster Pro, the Zoom PodTrak P8, and the Tascam Mixcast 4.
One major feature of the Rodecaster Pro, however, is the ability to power the unit straight from a USB connection on your computer — a feature not supported on the Mixcast 4.
But there are a couple of solutions available for those of us who want to be mobile with our podcast recording station. Let's go through them now.
Power the Mixcast 4 using USB
To power the Mixcast 4 using USB power we need to convert USB power into 12V DC with a minimum of 2.4 A of power, the latter being the area where most USB power connections fail unfortunately.
It is straight-up unusual for PowerBanks and USB adapters to carry over the 2.4 A over a 12V DC connection — most often it drops down to 1 or 1.5 A, even though the unit can be marketed as 3 A (a number they can live up to only when delivering up to 9V DC).
To summarize, our requirement for powering the Tascam Mixcast 4 using USB is a 12V DC / 2.4 A power source from a USB to a DC connection.
---
Supported PowerBanks
Unfortunately, many, many PowerBanks simply cannot deliver the amount of power required to power the Tascam Mixcast 4.
We have tried several different models before finding models that can power the unit — but we have found working PowerBanks that can successfully power it.
Here is the best PowerBanks for the Mixcast 4:
1. Anker PowerCore+ 26800 PD 45W
The PowerCore 26800+ PowerBank from Anker is a very solid PowerBank that can charge both your laptop and power the Mixcast 4 without any issues at all.
This power bank holds an amazing 26 800 mAh and gives you more than the required 2.4 A, making it an excellent choice for powering the Mixcast 4 for many hours.
---
Supported USB Power Adapters
Another challenge is finding a good enough USB converter cable that will change the USB output on the PowerBank to a 12V DC output, making it possible for us to connect it to the Mixcast itself.
Here are the best USB power converters for the Mixcast 4:
1. Røde DC-USB1
Røde DC-USB1 is made for the number one competition of the Mixcast 4 — the Rodecaster Pro — and this cheap and easy-to-use power adapter works like a charm on the Tascam unit as well.
It even has the same screw-in dimensions which make it possible to secure the DC connection just like on the Røde unit.
2. iGreely Step Up Converter Cable
The cheaper alternative is 5V 12V DC Step Up Converter Cable which is available at half the price of the Røde DC-USB1, and while it's missing the secure screw-on feature they perform the same from a power conversion standpoint.
For durability, you might want to go with the more expensive option, but if you want a cheap and quick solution the iGreely version works fine.
Conclusion
While Tascam themselves don't advertise the Mixcast 4 as a portable podcast studio, it is very much possible to use it as such with a good enough PowerBank and a simple USB converter cable that's also really cheap.
We think it's a bummer that many users think that the Tascam is limited when it just comes down to a simple workaround to get it to work flawlessly on the field.
Hopefully, this tutorial has helped you realize your podcasting dreams with your excellent podcast station Mixcast 4!
Products
Reviews
---
Tutorials
---
Questions
---
News
---
Music

Rigs
Find the best tools when building your very own music rig, using reviews, tutorials and guides written exclusively for MusicRigs.com — for music creators, by music creators. Links to stores are affiliate links.
---
© Music Rigs 2023